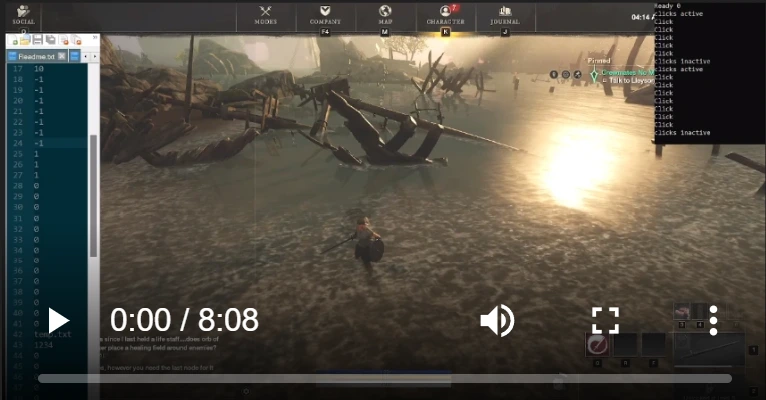 Attack speed hack (all melee weapons, including void gauntlet sword)
Minor movement speed hack (~20% increase)
Botting features (see video)
Aiming assist / Aimbot (all weapons vs. both players and mobs)
Instant blocking
Instant dodging
Instant consumable usage
Max zoom hack
Native macro creation
OS: Windows 7, 8, 10, 11
CPU: Any
The New World cheat is completely undetected, external, and does not require disabling or tinkering with the anticheat. You will receive a unique/individual copy of the hack at no extra cost once you have set up your account. The cheat comes with a readme that explains how to configure it and safety instructions to ensure your usage of the hack is as secure as possible.
Monthly Membership
5-Day Membership
New World cheats and hacks have existed since launch, some far more egregious than others, such as dupes. Amazon tries its best to patch them as they arise, but a new one seems to crop up every month or two. The New World Speeder cheat is a unique attack speed hack that removes the delay between melee weapon attacks. This means you can transition from one swing to the next much more quickly than you should be able to, resulting in much higher DPS. The cheat has existed since launch and has never been patched. The New World Speeder also removes the animation lock from everything else as well, so you can use potions instantly, dodge instantly, block instantly, etc. More significantly, the animations for abilities can be hacked, allowing for very quick movement around the world.
The New World Speeder also comes with macro functionality. This is intended to be used in tandem with the attack speed hack (so that you can swing your weapon at precisely the right moment), but you can create macros for anything you wish.
Along with the more cheat/hack-oriented features, the New World Speeder also comes with botting functions. You can program a waymark path, check for targeted objects, press keys, move the camera, and more. I am looking into expanding what the bot can do.
Speeder Cheats respects "New World" as a registered trademark and uses it solely to describe what the cheat can be used for. It has no bearing on the cheat or the cheat's name ("Speeder").