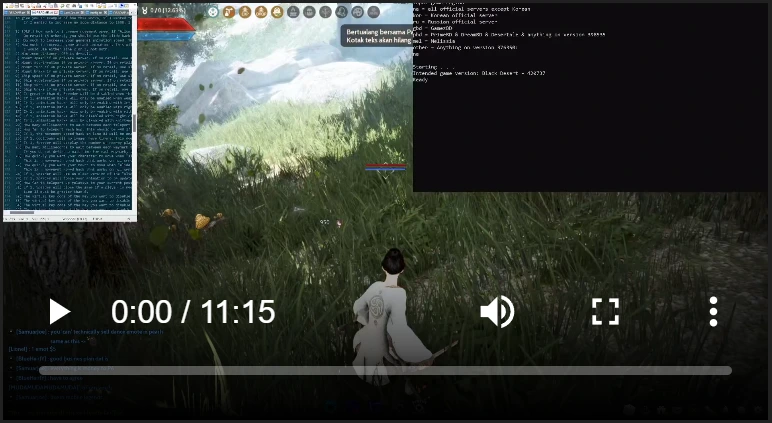 Black Desert Online Cheats, Hacks, & Bot Videos
One-Month Membership ($19.99–$20.99/Month):
5-Day Membership ($6.49):
Once you have purchased the cheat, the download link is present in the posts below:
Specifications:
OS: Windows 7, 8, 10, 11
CPU: Any
Versions: All retail/official versions (NA/EU/KOR/SEA/SA/etc.), GamezBD, PrimeBD, Melissia, DreamBDO, MoonBD, Defiant, and any private server running the Corsair version or version 376350 of the game.

Features:
Teleport to waymarks, to crosshair, to coordinates, up/down, etc.
Hack movement speed
Hack attack speed
Hack mount/ship speed
Hack cooldowns (cooldowns will have their full effect; most timers cannot be hacked)
Botting features (see video)
Macro functionality
Hack max zoom distance
Freeze/remove all mobs
Automatically use potions
Hack interaction distance
Auto-aim/target/detect nearby mobs
The Black Desert Online (BDO) cheat is completely undetected, external, and does not require disabling or tinkering with the anticheat. You will receive a unique/individual copy of the hack at no extra cost once you have set up your account. The cheat comes with a readme that explains how to configure it and safety instructions to ensure your usage of the hack is as secure as possible.
Speeder Cheats respects "Black Desert Online" as a registered trademark and uses it solely to describe what the cheat can be used for. It has no bearing on the cheat or the cheat's name ("Speeder").
Black Desert Online Posts
Black Desert Online Cheat Additional Info
Black Desert Online (BDO) is an extremely hackable game. When the game first released, you could cheat with god mode, no cooldowns, infinite stamina, teleporting, speed hacking, and a ridiculous list of things. Some of the more egregious cheats have been patched (god mode, no cooldown), but most of the speed hacking cheats still remain. Black Desert Online devs have opted for server detection in lieu of fixing them, so although speed hacking is still possible to a large extent, you must be careful about server detection. The BDO Speeder has an extensive readme that explains how to avoid detection and cheat safely.
The BDO Speeder also comes with botting features, such as waymark recording, automatic key presses, automatic mouse movement, automatic camera movement and more. Please check out the videos to get an idea of what you can do. The Black Desert Online bot can be used for both combat and gathering, as well as many other things.